Rail Deck Park Overview
In Fall 2016, Toronto City Council endorsed a proposal for a new major park in Downtown Toronto, to be built over the rail corridor between Bathurst Street and Blue Jays Way. Known as "Rail Deck Park," the project will transform this unused air space into Toronto's next great gathering space for recreation, culture, and celebration.
Rail Deck Park represents a bold and creative solution to the challenges of city-building; the first of its kind in the city and the country. An innovative deck structure – essentially a giant bridge across the rail corridor – will provide the foundation and be designed to minimize impacts on train operations below. It will be engineered to support all the elements of a vibrant and dynamic urban park: lawns, gathering and play spaces, shade trees, water features, public art, and more.
Rail Deck Park will support the continued growth, prosperity, and liveability of our city. It presents an opportunity to create the city's next great civic space, where all Torontonians can come to play, relax, connect, and celebrate.
Study Area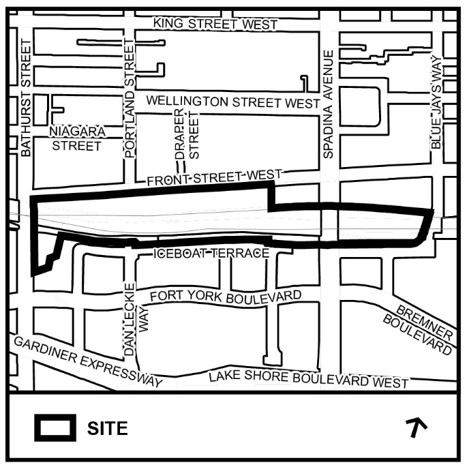 City Staff are currently developing an updated planning framework to support a park use over the rail corridor. This update is being brought forward through the proposed Rail Deck Park Secondary Plan.
The Secondary Plan applies to the land within the rail corridor between Bathurst Street and Blue Jay Way, and directly adjacent city-owned properties. This includes Northern Linear Park and the planned Mouth of the Creek Park. The total area of the Rail Deck Park Secondary Plan is 8.8ha (21.7ha).
Background
Toronto has a long legacy of investing in its parks and public realm network, which has endowed it with a well-used open space system that extends across the city.
As the City grows, it must take stock of its parks and open space system to identify where needs and opportunities exist to expand and enhance parkland to support the increasing number of people who call Toronto home.
The City began a major review of its parks and public realm as part of the TOcore Study and the development of the proposed Downtown Plan in 2014. This study identified a need for expanded parkland in the Downtown to serve growing populations and maintain liveability. However, in rapidly intensifying areas like Downtown, finding space for new major parks is difficult and costly. Through the TOcore study, the rail corridor, between Bathurst Street and Blue Jays Way, was identified as a major opportunity for parkland acquisition in the Downtown.
The vision for Rail Deck Park was formally announced by Mayor Tory in August 2016. Shortly after, City Council endorsed a work plan for Rail Deck Park. The work plan includes an Updated Planning Framework to support a park use over the site, and an Implementation Strategy which addresses design, phasing, real estate, and finance considerations.
Project Status
Rail Deck Park is a bold and complex city-building project which involves a range of different internal and external partners.
A multidisciplinary project team is currently advancing a work plan for the Rail Deck Park project. Approved by Council in 2016, the work plan involves two main components:
A planning study to update the existing planning framework for the rail corridor
An implementation strategy for the Rail Deck Park proposal.
In 2017, the City's Project Team completed Stage 1 of the Rail Deck Park work plan. This work focused on a preliminary feasibility analysis on how a decking structure could be constructed and cost estimates. This stage also involved a Planning Study and Official Plan Amendment (OPA) to designate the rail corridor area for future parks and open space uses. City Council approved this OPA in December 2017; however, this decision was appealed to the Local Planning Appeal Tribunal (LPAT). For more information please visit the Information & Reports page.
The City's Project Team, including CreateTO, has been advancing Stage 2 work in 2018 and 2019. This stage of work will focus on engineering, finance, and real estate matters, as well as further public consultation. City staff have also been managing the LPAT appeals process. A hearing was held on May 27, 2019 to determine the status of the Rail Deck Park Secondary Plan (OPA 395), however the City has yet to receive a decision.
An update on Stage 2 work and next steps will be provided to City Council in fall 2019. There will be more information available and opportunity for public input leading up to this Council session.