King-Liberty Pedestrian/Cycle Bridge
Construction Update – September 18, 2019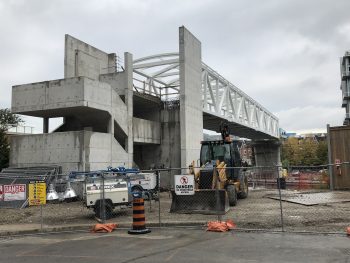 Construction of the King-Liberty Bridge is well underway. The steel bridge structure was hoisted into position and installed on September 15, 2019. See new photo gallery below.
Next activities include installation of the bridge's concrete deck, roofs, glasses with public art components, hydro connections, interior lightings, security systems, and elevators.
The full opening of the bridge is anticipated for Spring of 2020 and the City is working with its contractors to identify opportunities for an earlier partial opening for the community.
---
The Bridge Plan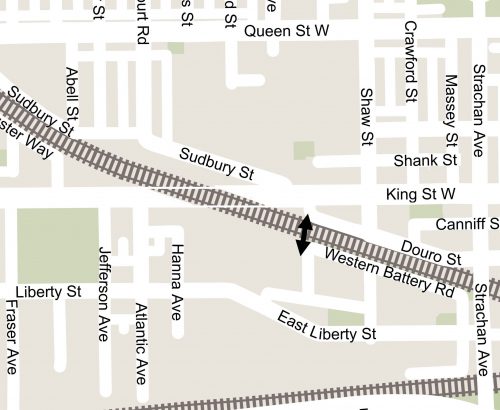 The King-Liberty Pedestrian Cycle Bridge over the Metrolinx Kitchener / Milton Rail Corridor will span from Douro Street to the western leg of Western Battery Road.
This new bridge will provide a convenient and more direct route from Liberty Village to King Street West between Atlantic Avenue and Strachan Avenue. The project is part of the Council-approved 2018 Capital Works Program.
The bridge design includes the following:
A five-metre wide covered and mostly enclosed deck will span the entirety of the 55 metre wide Metrolinx rail corridor.
Access to the bridge will be provided by a staircase (with a bicycle channel) on each side, as well as elevators for barrier-free access.
All passageways and approaches will be illuminated for 24 hour access.
Security measures, such as closed-circuit cameras, open stairs (for visibility) and emergency call buttons.
Public art will be included in the design of the glass for the elevator towers at both ends.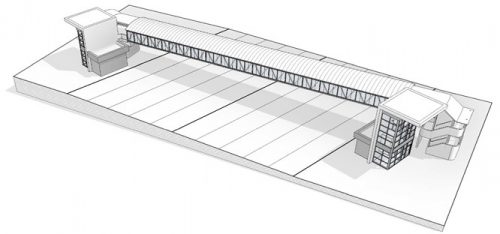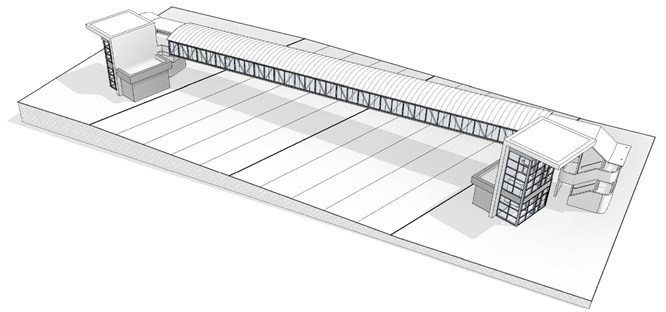 The location and general design of the bridge was endorsed by City Council in December 2011.
Further details on the bridge design, construction and public consultation history is available below.
Drawings
To request assistance viewing these images, please email or contact Jason Diceman at 416-338-2830.
South Side Approach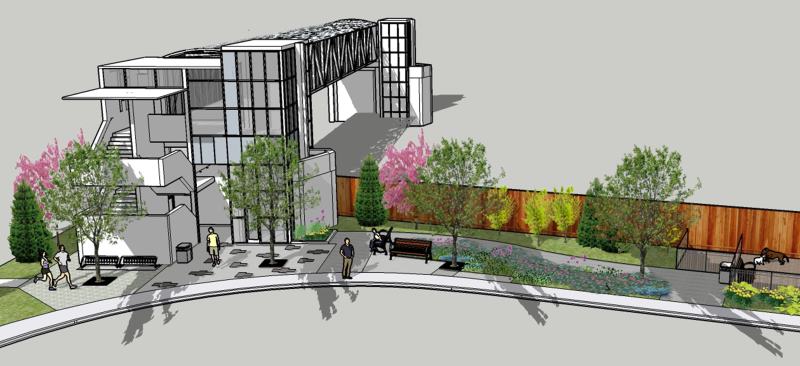 Bridge Deck Façade Treatment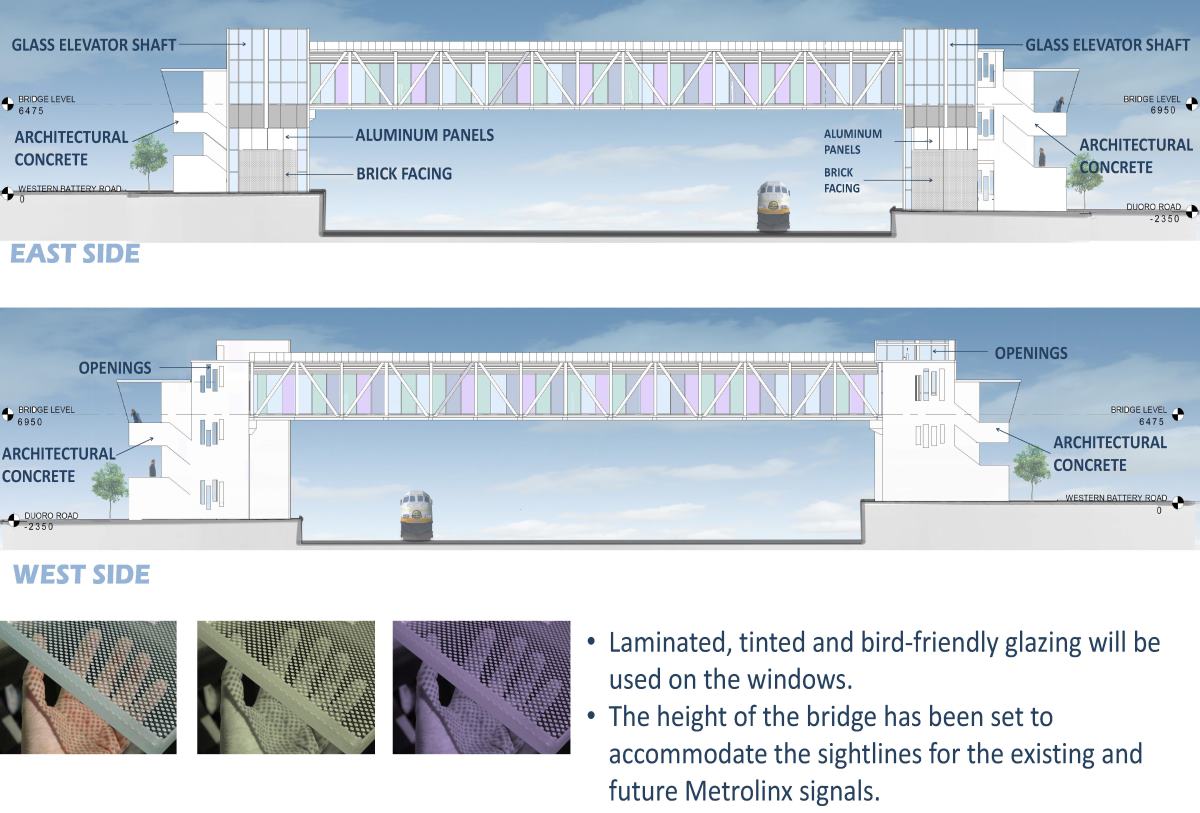 Elevators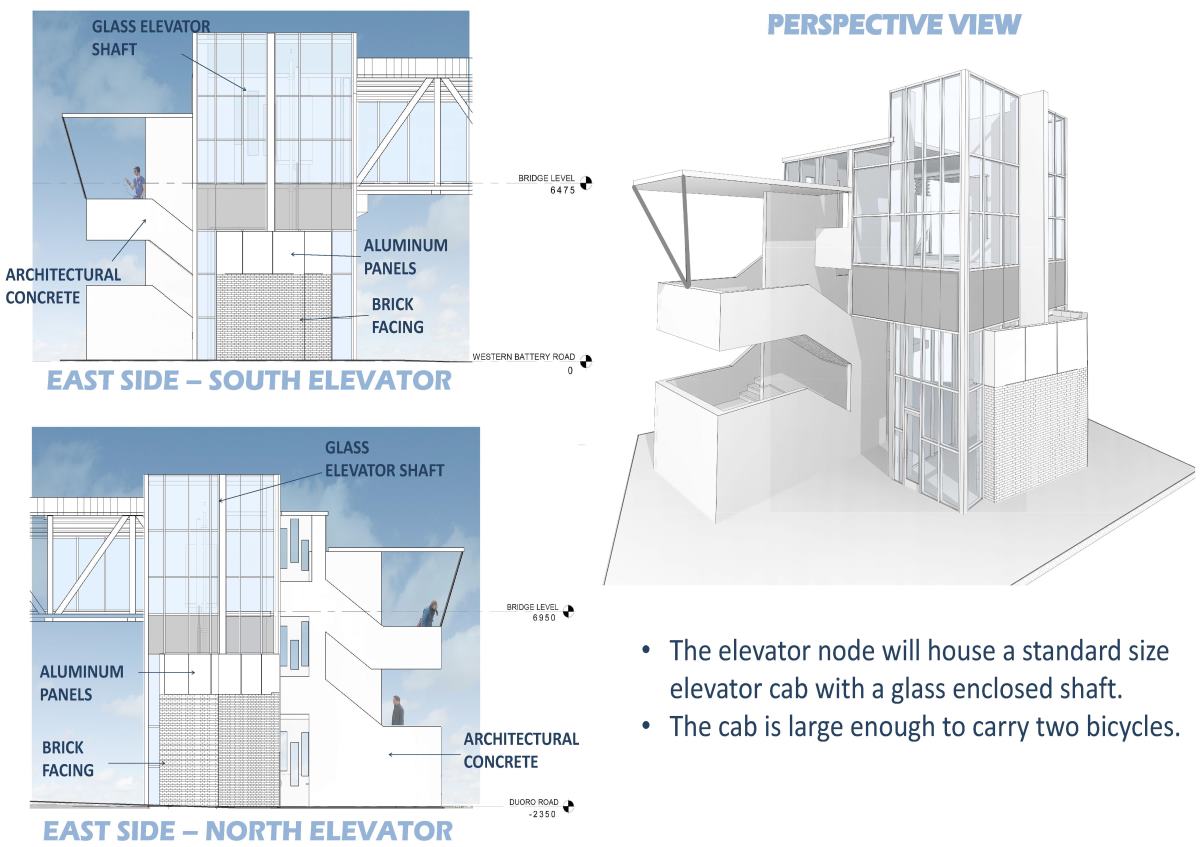 Staircase and Railing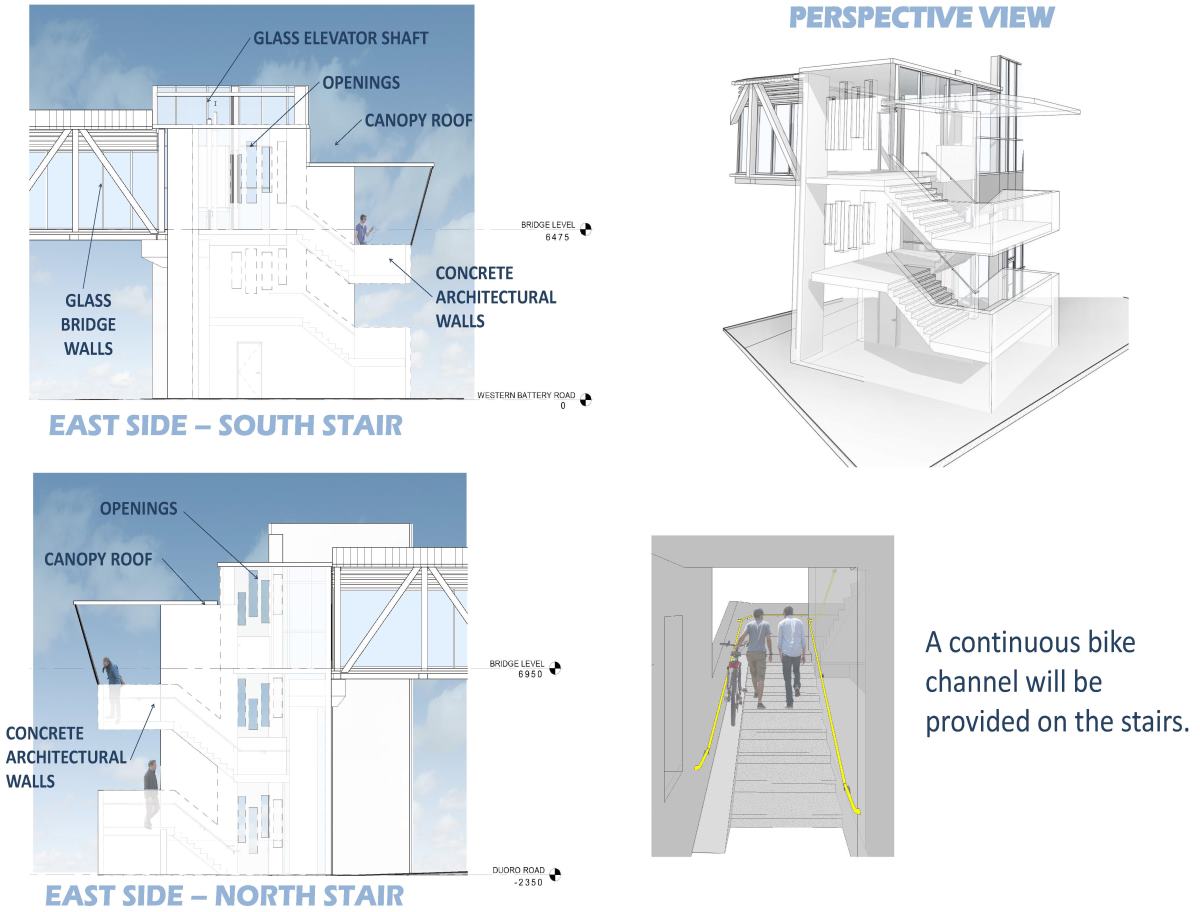 Lighting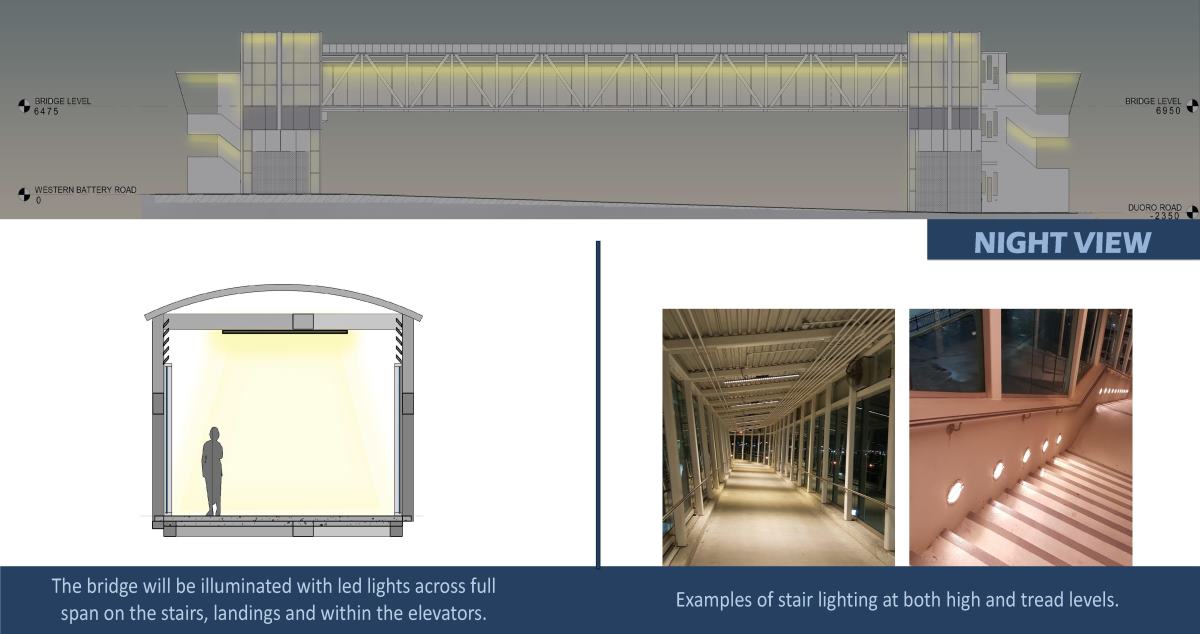 What to Expect During Construction
Tree Removal
The City will have to remove 26 trees from the boulevard. Trees will be replaced with an estimated 84 new trees and shrubs by the Urban Forestry.
Work Hours
Work will take place from 7 a.m. to 7 p.m., Monday to Friday, with work after hours and on weekends as required.
Road and Sidewalk Access
In order to complete the work in a safe manner, there will be road and sidewalk restrictions within the construction work zone. Access for emergency vehicles will be maintained at all times.
Access to the dog park entrance will be maintained
Parking
During construction, on-street parking will be restricted adjacent to the work areas, with reduced parking space available on both Douro Street and Western Battery Road.
Questions About Design, Maintenance & Impacts
Design
1. Why is the bridge design mostly enclosed and covered?
Metrolinx requires two metre high barrier walls on this bridge because it extends across the rail corridor. The proposed design includes a roof, which will minimize the need for winter maintenance and provide greater comfort for bridge users in inclement weather.
2. Why does the bridge design include elevators and not ramps?
Ramps were considered in the 2011 Class Environmental Assessment Study, but were not recommended for several reasons. As documented in the 2011 staff report to Council (item PW9.6)
"A ramp even at the maximum grade (1 in 12) would be over 100 m long (particularly on the north side of the crossing) and hence unattractive to its users, visually obtrusive (conflicting with the urban design objectives for the area), and difficult to keep clear of ice and snow at all times. A large ramp structure would impinge on Douro Street and require removal of trees, while hampering future efforts to introduce a multi-use pathway along the rail corridor."
The approved design includes elevators and stairs, which have the following advantages:
provides barrier-free access throughout the entire year.
Elevator eliminates the need for out-of-way travel and it is accessible for cyclists at all levels.
Requires the least amount of tree removal.
Poses minimal impact to possible future multi-use path on Douro Street.
See further details on the 2011 Class Environmental Assessment Study web page.
3. What security measures are being built into the design?
The personal security measures for the King Liberty Bridge structure, elevators and stairs will include:
Use of glass walls for pedestrian visibility
Effective pedestrian lighting
Closed circuit security cameras
Emergency buttons in the elevators at strategic locations
Bridge Operations & Maintenance
4. How will the bridge be maintained?
The City will carry out regular maintenance on the bridge, including snow clearance at the approaches, removal of garbage and regular cleaning. Routine inspections of the bridge will also be carried out and rehabilitation scheduled on an as needed basis.
5. Will the bridge be open overnight?
Yes, the bridge will be available for 24-hour use with lighting and security cameras.
6. Will the bridge, elevators and structures be heated or air-conditioned?
No active heating or air-cooling will provided in the pedestrians pathways or elevators. Openings will be provided for passive air circulation in the stairs and bridge deck passage way.
Impacts
7. Are there any private property impacts?
A small strip of land between Western Battery Road and the rail corridor will be required to accommodate the preferred location and design of the bridge. In addition, the City and Metrolinx are working to develop the terms and conditions of the necessary construction and crossing agreements needed to allow construction and operation of the bridge over the rail corridor.
8. Will any of the streets be impacted or closed during construction?
Some roadway and sidewalk restrictions will be required on Douro Street and Western Battery Road during portions of construction. No closures are expected to King Street West or other neighbouring major streets.
9. Will any transit routes be impacted from this project?
This project is not anticipated to effect or cause change to any local TTC or GO Transit services.
10. How might this bridge affect nearby tower residents?
This bridge will be a convenient connection for local residents. Lighting and other elements will be designed with consideration of adjacent apartments.
Other Nearby Projects
Liberty Village GO/Smart Track Station
The new GO/SmartTrack station proposed for Liberty Village is to be located north of King Street West. While the King-Liberty Bridge will not provide a direct connection to the SmartTrack Station, some residents may use the bridge to access other connecting routes to the station. Learn more and get involved at SmartTrack.to.
Liberty Village New Street
Learn more at the Liberty Village New Street Environmental Assessment study web page
King High Line Concept
The King High Line bridge is a third party concept that has not been studied by the City, nor formally proposed to the City. From their web page, the idea for this bridge would be west of the rail corridor providing access to the north side of King Street West and Sudbury Street beyond. The King-Liberty Bridge does not conflict with the King High Line concept.
Public Consultation History
See the King-Liberty Pedestrian Cycle Bridge Environmental Assessment