Peel Avenue & Gladstone Avenue Road Reconstruction
The City of Toronto is working on the design details to improve mobility options on Gladstone Avenue and Peel Avenue, including:
pedestrian improvements
vehicular traffic changes
cycling improvements
parking changes
sustainability/green street features
For more details on these components, please review the Project Information tab.
Public Drop-in Event
A public drop-in event was held on April 8th, 2019, from 6:30 p.m. to 8:30 p.m. at Mary McCormick Recreation Centre. The event was attended by approximately 45 people and 53 Feedback Forms were submitted.
The Public Consultation Report will be available shortly.
Event Materials
The content posted below was presented at the drop-in event on April 8, 2019.
Pedestrian Improvements
Wider sidewalks
Accessible pedestrian crossings with tactile plates
Reduced pedestrian crossings distances
Street trees and street furniture
Vehicular Traffic Changes
Peel Avenue will become one-way in the westbound direction
Gladstone Avenue will become one-way in the northbound direction
Cycling Improvements
Contraflow bike lanes enable cyclists to travel in both directions on streets that are designated one-way for motor vehicle traffic
Builds connections to the local existing and planned cycling network
Parking Changes
On-street parking will remain available to meet current demand
Sustainability/Green Street Features
Grass and landscaped boulevards
Permeable paving materials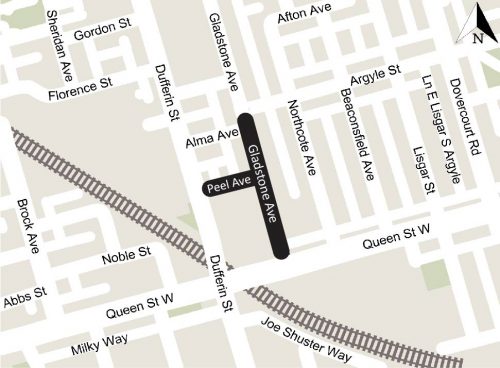 Project History
1949
Peel Ave. and Gladstone Ave. were last reconstructed in 1949. The average lifespan of a road is usually 50 years or so, at which time the road needs to be reconstructed.
2010
In 2010, the City completed the Peel-Gladstone Reconstruction Class Environmental Assessment Study. After a detailed technical analysis, data collection and public feedback, the study recommended narrowing Peel Ave. and Gladstone Ave. between Peel Ave. and the supermarket (22 Northcote Ave.) from 13.1m to approximately 8.6m to include:
Single northbound lane on Gladstone (one-way operation)
Single westbound lane on Peel Ave. (one-way operational)
Parallel parking provided
Sidewalks widened
2011
In 2011, the City eliminated the Dufferin Street "jog" by constructing an underpass on Dufferin Street to connect to Queen Street West (creation of a continuous connection for motor vehicles, bikes and pedestrian traffic on Duffering Street under the rail corridor). This connection eliminated the need for vehicles to travel along Peel and Gladstone Avenues to get to Queen Street West. As a result, there has been significant reductions in motor vehicle traffic and an increase in cycling on Peel and Gladstone Avenues.
2019
Detailed design has commenced. The City is now moving forward with changes approved through the 2010 Peel-Gladstone Reconstruction Environmental Assessment Study to convert Peel Avenue and Gladstone Avenue (from Minowan Miikan Lane to Peel Avenue) into a one-way operation for motor vehicle traffic. Pedestrians and cyclists will be able to travel in both directions. Two-way motor vehicle travel on Gladstone Avenue from Queen Street West to Minowan Miikan Lane will remain.
2020
Construction is planned for 2020, pending finalization of detailed design.